Firstly, for everything to go successfully while moving into a new house, coordination and collaboration are essential. Secondly, you don't want to have to rush to do everything at the last minute, which might divert your attention from other important duties. However, you don't want to complete these things too soon and be without Internet for the final few months in your existing residence.
Before start moving
It is beneficial to start your preparations as early as possible. Always start your move with proper planning. Start your moving day with proper planning. Then divide the tasks into small portions with proper schedule.
Make a moving checklist
There is so much to do before you move that it can be challenging to decide when to do it all. When planning your move, having a moving and packing checklist to use as a moving timetable may be a huge help. First, pick a moving time of the day. Additionally, set a concrete relocation date. A firm time in mind can help you organize and carry out your relocation effectively. Moreover, when picking your relocation time, keep things like employment, school, and lease agreements in mind.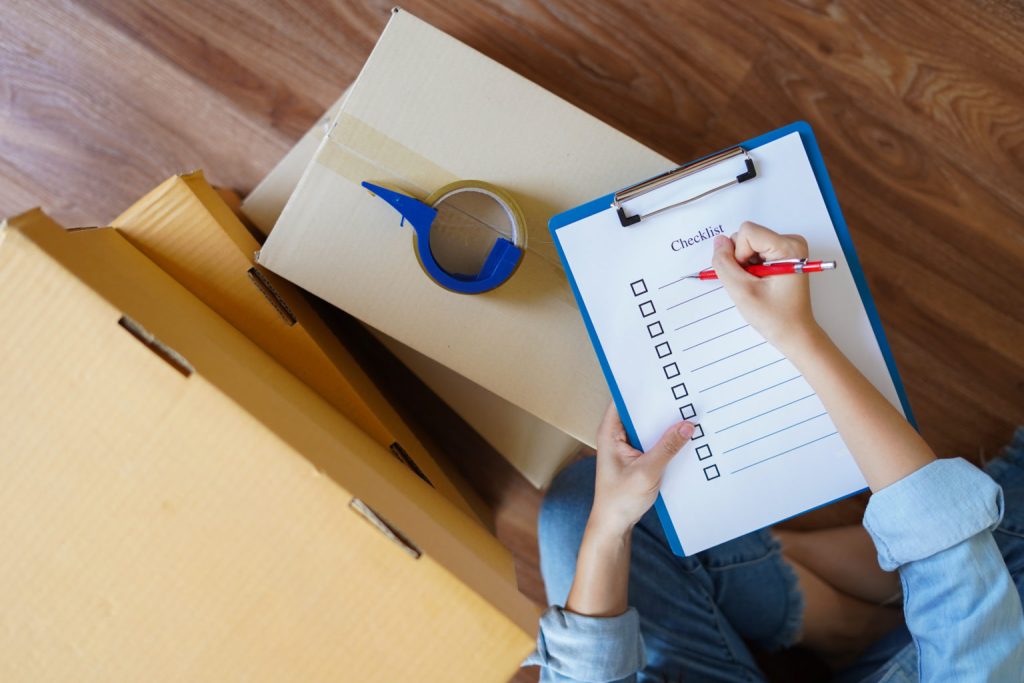 Purge and scale back
Go through your stuff and tidy your house before you begin packing. Furthermore, donate, sell, or throw away everything you don't need anymore. Moreover, by doing this, you'll not only have fewer things to move but also a better-ordered feeling in your new house right away. It will be simple for you to pack quickly and affordably with less usage of packing materials if you have fewer goods to pack and move. Furthermore, starting earlier will allow you to sell big things like furniture, give goods to the needy, and donate things to relatives or friends. Lastly, get rid of everything broken or unnecessary.
Start looking up moving companies
Additionally, it will help you remain on schedule if you decide to use professional movers. It is a good idea to start looking for movers near me and attempt to make a reservation as soon as you can.
Employ expert movers
Furthermore, to help you relocate, think about working with a reliable moving company like Skymovers. Additionally, our affordable movers in Dubai with experience and resources can treat your possessions with care, resulting in a seamless transition. To guarantee your desired relocation date, reserve your movers well in advance.
Create a Budget
To manage your finances during a moving process, create a budget that includes expenses like packing supplies, transportation, and professional services. Moreover, stick to your budget to avoid financial stress. Additionally, hire cheap movers like Skymovers to price your move according to your budget. Furthermore, review your items, finances, and moving needs to create a budget-friendly moving plan. Start by writing up an inventory and reviewing your moving needs to ensure you have enough money for your move."
Compile Your Packing Materials
To begin with, start gathering packing materials such as boxes, tape, bubble wrap, and packing paper. Additionally, you should inquire with your moving company about whether they provide packing services or supplies. Alternatively, you can purchase these items on your own. However, it is worth noting that if you use Skyumovers specialists. Being the affordable movers in Dubai, we'll have all the materials available for you, ultimately saving you time and effort in the long run.
Create a packing schedule
This entails making a packing timetable and dividing your duties into smaller portions. It is advisable to start with items that are less frequently used and gradually work your way up to daily necessities. Moreover, to ensure a smooth unpacking process in your new home, our cheap movers in Dubai will label your boxes with their contents and the rooms they belong in.
It is crucial to inform important parties about your move.
This includes notifying your utility companies, the post office, as well as your friends and relatives of your new address. Furthermore, if you are relocating to a new city or state, do not forget to transfer your medical records as well.
Prepare a box with necessities.
 Additionally, Fill an emergency supply box with things you'll need as soon as you get to your new house. Moreover, This might contain basic cooking supplies, a change of clothes, critical papers, and toiletries. Furthermore, Your first day in your new house will be more pleasant if you have easy access to this box.
Verify Moving Information.
Furthermore, Confirm with your cheap movers in Dubai all the pertinent information a few days before your move, including the moving date, time, and any special instructions. Also, Make sure you have all the required documentation and funds on hand.
CONSIDER ANY NEW FURNISHINGS YOU MAY NEED.
Additionally, If you need new furniture for your new home, now is a good time to start shopping for it and making plans for its delivery following your move. Moreover, If you're relocating far away and don't want to haul a lot of heavy furniture across the nation, hiring movers near me will be useful.
Verify Moving Information
To begin with, confirm with your expert movers all the pertinent information a few days before your move. This includes the moving date, time, and any special instructions. Additionally, make sure you have all the required documentation and funds on hand.
CLEAN UP YOUR OLD SPOT
Not only is giving your old home a good cleaning kind to the new tenants, but our cheap movers in Dubai may also help you avoid losing your cleaning deposit if you're renting. Finally, it will be much simpler to clean if the majority of your stuff has already been packed.
CLEAN YOUR NEW LOCATION
On the other hand, it will also be simpler to thoroughly clean your new home before you move all of your possessions in. Additionally, if at all feasible, visit the new location before moving in to ensure that everything is tidy.
APPRECIATE THE OCCASION
If you've hired our cheap movers in Dubai, as long as you've taken care of everything else beforehand, all you should have to do is see them at work. Moreover, you should not have to worry about loading the truck, traveling to your new home, and unloading if you're managing the move yourself.
CHECK OUT YOUR NEW HOUSE
Next, before moving in, you should have hopefully gone through your house, but now is the time to give it one more glance before you pack it with your belongings. Our professionals watch for any damage, cracks, leaks, drips, or other possible problems. In case there is anything that needs immediate maintenance, taking care of it before a house full of possessions makes it harder to handle the situation.
REMODEL YOUR NEW HOUSE
Moreover, this is your time to thoroughly clean your new home before furniture and other belongings start to clog the space. Unpacking and settling in will go more smoothly if you start in a clean, new house with us.
First, set up the necessities.
Next, it will take some time to unpack, so we start with the most crucial items. For example, unpack the basics box you should have packed and taken with you. Additionally, there are some more crucial things you might wish to unpack or put up on the first day. These include setting up big furnishings, creating and preparing beds, installing equipment, and unpacking the goods in your kitchen.
Timeline for local moving services
Skymovers is the greatest alternative to select if you're looking for local movers near me who will arrive on schedule on your moving day. Our top-notch packing supplies and cushioning boxes ensure that your possessions arrive at their destination safely and undamaged. We offer specialized solutions that cater to your unique needs and budget as the best local movers in Dubai. The relocation procedure is thoroughly observed by our crew. We are aware of the worries during travel and make sure our customers are informed.
Benefits of using our service:
We understand that customers are always right and aim to reduce hazards to property and ensure a secure transfer by choosing the best provider for your needs. We resolve customer complaints effectively through efficient procedures.
Door-to-door services:
Being the most affordable movers in Dubai, we offer door-to-door moving services, allowing you to transport most of your belongings without your involvement.
A complete shift from beginning to end:
Our cheap movers in Dubai also offer a comprehensive solution for loading, unloading, and transporting items, including furniture, fixtures, and fittings, as well as safe transportation and unloading services in Dubai. We make your move happier by doing all your moving deals from beginning to end.
Conclusion
In conclusion, a successful and stress-free relocation requires the creation of a moving timeline. By following these steps, you can make your move a quick and easy process. Trust the cheap movers in Dubai at Skymovers for all of your moving requirements, and let us assist you in making a smooth transfer to your new residence.