Introduction:
Changing residences can begin an exciting new chapter in one's life. Packing up your home and moving to a new location can be stressful and time-consuming. Here's where help from expert movers comes in handy. In Dubai, Sky Movers is the only company that can be considered exceptional. They are one of Dubai's best movers and packers companies, thanks to their excellent service and dedication to their clients. This article will explain why you should hire movers and packers in Dubai to help you relocate and how easy it will be.
If you're currently living in Dubai and are thinking about relocating to a new city or neighborhood within Dubai, your search is over. We're here to make moving to a new house as easy as possible for you. We are the most dependable home-shifting service in Dubai so you can count on us for help with every step of the process. We offer a wide variety of home shifting services to ensure a smooth transition and the safety of your valuables.
Do you want to have a smooth house-moving experience? If you're looking for a reliable moving company in the UAE, your search is over. When you hire Sky Movers, you can rest assured that you will receive the highest quality residential relocation services in Dubai.
Home shifting services:
Relocating to a new city, town, or even a new house can be an emotionally and physically taxing experience. However, our residential relocation services aim to lessen the burden of such challenges on our clients. We know that keeping your belongings safe and private is your top priority. Therefore, we take every precaution to safeguard your belongings. With the help of our knowledgeable and hardworking staff, our home relocation services in Dubai have quickly become the most trusted in the area.
Sky Movers offers reliable home-shifting services for anyone in Dubai who needs help moving into a new house. We work hard to ensure our clients don't have to worry about a thing during their move. Providing comfort and ease during this time of change is our top priority. We know that moving can be stressful and time-consuming, so we've assembled a team to take care of everything that comes with it.
Our reliable household shifting services are available to you whether you relocate within Dubai or another city entirely. We've built a solid reputation as Dubai's premier house-moving service. Our customers can count on our full-service assistance with every facet of their relocation. Our top priority is the security of your belongings, including your fragile cookware and other valuables. No matter how big or small your move is, we know it can be a stressful experience for you. As a provider of residential relocation services, we intend to minimize these difficulties. We cover all the bases to ensure your stuff is secure and out of harm's way.
Thanks to the knowledge and direction of our seasoned staff, our residential relocation services in Dubai have become highly regarded. Check with any of Dubai's many municipalities to see how professionally we handle household moves and the rest of our services. Our number one concern when designing our services has always been the security of our client's property. In addition, our services are available at affordable rates, making us the go-to company for resident movers in Dubai.
Sky Movers is the most dependable and trustworthy company among Dubai's home moving service providers. When it comes to moving, our team knows how important it is to have everything go smoothly and safely, which is why we work hard to ensure both. Movers and packers are the best choices when you need help moving because we ensure everything goes as planned.
If you're looking for reliable movers in Dubai, look at the industry leaders. When you hire our house-moving services, you can relax knowing that everything will be taken care of in a way that exceeds your expectations and is carried out efficiently.
How Home Shifting Companies Can Make Your Move Easier:
Moving can be stressful and time-consuming, but hiring a professional home-shifting service can alleviate much of that stress. Proficient packing and unpacking, careful handling and transportation, insurance protection, time savings, and specialized services are why hiring professional home shifting services is essential for a stress-free relocation.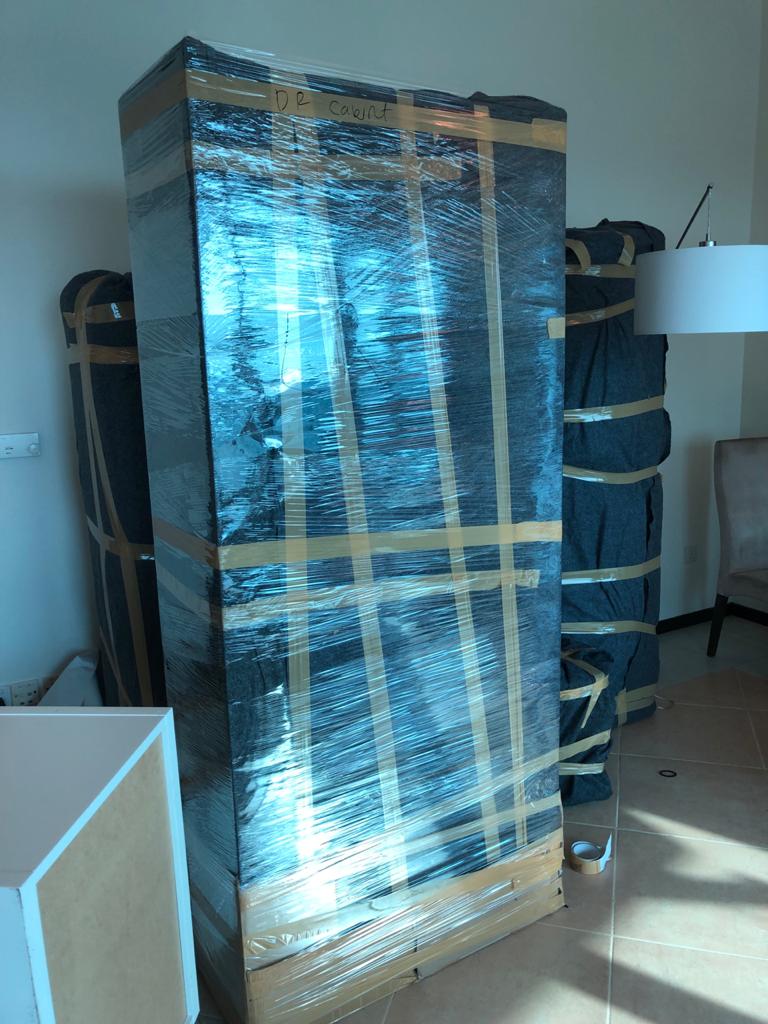 Experience and Expertise:
Professional home shifting service providers have the know-how and experience to deal with any issue that may arise during the relocation process. Professionals in their employ know how to load and unload trucks safely, pack efficiently, and carefully handle fragile items. An experience like this ensures that your belongings will make it to your new home without a scratch and will reduce the likelihood of any mishaps.
Efficient Packing and Unpacking:
Packing and unpacking efficiently can save you time and stress during a move. Professional packers working for movers use high-quality materials and tried-and-true methods to ensure your belongings remain in one piece throughout the move. In addition to helping clients save time and energy, these services are also extremely helpful when unpacking once they arrive at their destination.
Proper Handling and Transportation:
Moving bulky furniture, appliances, and fragile items can be physically demanding and dangerous if not done properly. Professional movers can access specialized equipment like dollies, ramps, and lifting straps to move large and heavy items safely. In addition, they employ specially constructed vehicles for secure transportation, guaranteeing that customers' belongings will make it to their new home in one piece.
Insurance Coverage:
Reliable house moving companies typically offer insurance to cover any accidents during the relocation. Thanks to this coverage, customers can rest easy knowing they will be financially compensated in the event of an accident or mishap. Insurance coverage ensures the safety of clients' cherished items, which is especially important for sentimental or financially valuable possessions that are irreplaceable.
Time and Stress Savings:
Relocating to a new home can be a very stressful and time-consuming experience. Moving companies take care of the logistics so customers can focus on more important things, like setting up their utilities or settling into their new homes. Customers appreciate the time they can save thanks to the professionalism and effectiveness of these services.
Specialized Services:
Professional household moving companies offer a wide range of specialized services to accommodate various relocation scenarios, from short- and long-distance moves to international relocations. They have the expertise and tools necessary to deal with any situation. These services also provide specialized assistance for moving things like furniture, pianos, or antiques, which is especially helpful for transporting fragile and expensive items.
Additional Services:
Many companies specializing in home relocation offer extra services to ease the burden of moving. Some examples of these supplementary offerings include helping with packing and unpacking, arranging for temporary storage, and transporting vehicles. These services allow customers to tailor their relocation to their unique requirements and preferences by providing a wide range of options.
Important Considerations When Choosing a House Moving Company:
Individuals and families can make an educated choice when hiring a professional home moving service provider like Sky Movers if they keep a few key points in mind. Some crucial factors are as follows:
Comprehensive Analysis and Prioritization:
Start by thoroughly looking into your local area to find reputable home moving companies. Talk to people you know who have moved recently for advice. Find the best movers in UAE by searching online directories and marketplaces.
Customer feedback and endorsements:
You can learn much about a company's reliability and reputation by reading reviews and feedback from previous clients. Look at customer reviews on sites like Yelp and the company's website to see what others say about the company. Reviews that comment on punctuality, professionalism, and overall customer satisfaction are worth your time.
Getting a Variety of Quotes and Shopping Around:
Compare the rates and services of various home moving companies by requesting quotes from each. Please ensure the estimates are comprehensive and cover everything you need. When comparing prices, remember that the cheapest option is sometimes the one that offers the best value.
Policies and Coverage for Insurance and Liability:
Find out if the home moving company in question offers insurance. Inquire about their policies for handling damage or loss claims incurred during the move. It is crucial to evaluate the level of their liability and decide if additional insurance is required.
Cost Estimates and Personal Inspections on Location:
Schedule an in-home estimate with a home moving company so they can see your current home and get a feel for the size and scope of the move. That way, they can give a more precise estimate and flag potential problems or unusual needs.
Helping Out with Customer Commas and Service:
Determine how well the service provider communicates and how quickly they respond. Having constant and timely communication is essential for a successful relocation. Ensure the service provider can answer your questions and address your concerns quickly.
Authorization and Coverage:
Ensure the home moving company you hire has all the required permits and insurance coverage mandated by your state and local governments. This ensures that they are doing business ethically and within the law.
Personal recommendations:
Request personal recommendations from people you know to be reliable and who have used the services of a home-shifting company in the past. Their first-hand knowledge can give you an edge when making a choice.
Tips That Will Make Your House Move Go Easily:
Here are some helpful hints to hire the best movers in Dubai, like Sky Movers.
The First Rule Is to Plan:
Start early so you don't have to rush at the last minute. Make sure you have everything you need to prepare for and settle in after the move by making a detailed schedule and checklist. A system like this will help you maintain order and remember everything.
 Simplify and reduce:
Reduce the amount of stuff you're moving by taking advantage of the opportunity to declutter and downsize. Dispose of, sell, or donate your unused possessions. This will facilitate packing and provide a clean slate to build your new life.
 Pack with a plan: 
Start with the less important items and go room by room. Indicate the contents and destination room on the labels of all moving boxes. Labeling items with different colors could help with the unpacking process. Carefully pack fragile items using appropriate materials and padding to prevent damage in transit.
Essential box:
Put together a box with the things you'll need right away when you move into your new place. Anything from a change of clothes to a set of toiletries, some basic cooking utensils, and a set of important documents is fair game. Avoid digging through other boxes by keeping this one handy.
Inform your service providers:
Tell your cable and internet providers and any others who need to know that you will soon be relocating. Schedule the disconnection of your current services and the connection of your new services at your new home with them. This will guarantee a trouble-free changeover and continuous service.
Coordinate with the Home Moving Company:
Keep an Open Line of Communication with the Home shifting services You Select, Like Sky Movers, among the top-notch movers in UAE. Tell them the real deal about your relocation, including the dates, the places, and specific needs. The more effectively they can communicate, the smoother the relocation.
Conclusion:
In sum, Sky Movers is Dubai's best option for home shifting services. They have made a name for themselves as the best movers in Dubai for a smooth and trouble-free move by guaranteeing your safety and security. Their dedication to excellence, thoroughness, and professionalism set them apart from rival businesses. So, if you want a stress-free relocation, Sky Movers is your company. You can trust them to move your belongings quickly, efficiently, and carefully. Sky Movers is here to ensure that the next chapter of your life is unforgettable.